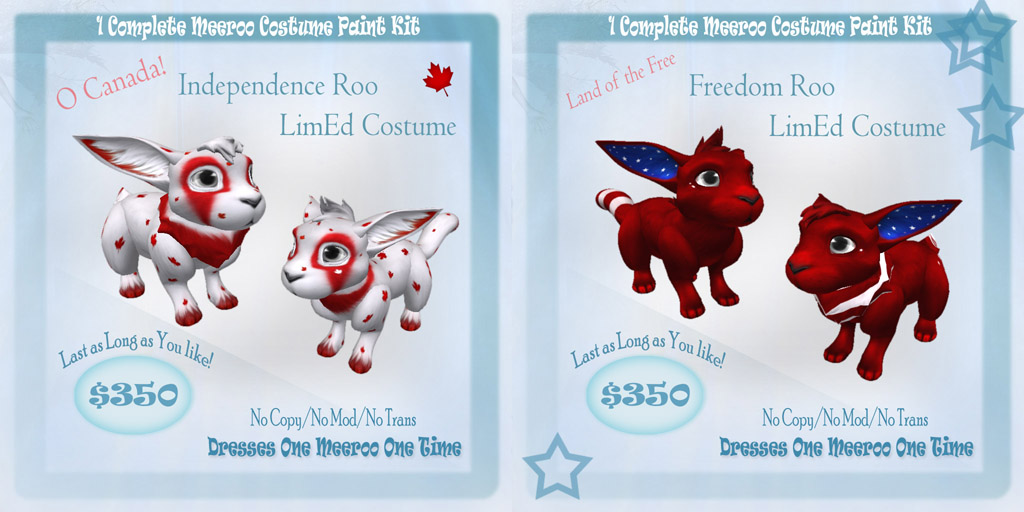 Got a couple of Meeroos that you want to keep forever? Want to paint them in observance with Canada Day or Freedom Day? Come on down to ROO and see what our artists have prepared for you.
Along with the 2 beautiful paint sets to commemorate these holidays, we are also putting our Mee-Pet honey dippers on sale for 1/2 price; FOR 48 HOURS !
Canada Day (French: Fête du Canada) is the national day of Canada, a federal statutory holiday celebrating the anniversary of the July 1, 1867, enactment of the British North America Act, 1867 (today called the Constitution Act, 1867, in Canada), which united three colonies into a single country called Canada within the British Empire. Originally called Dominion Day (French: Le Jour de la Confédération), the name was changed in 1982, the year the Canada Act was passed. Canada Day observances take place throughout Canada as well as by Canadians internationally.
Independence Day, commonly known as the Fourth of July, is a federal holiday in the United States commemorating the adoption of the Declaration of Independence on July 4, 1776, declaring independence from the Kingdom of Great Britain. Independence Day is commonly associated with fireworks, parades, barbecues, carnivals, fairs, picnics, concerts, baseball games, family reunions, and political speeches and ceremonies, in addition to various other public and private events celebrating the history, government, and traditions of the United States. Independence Day is the national day of the United States.