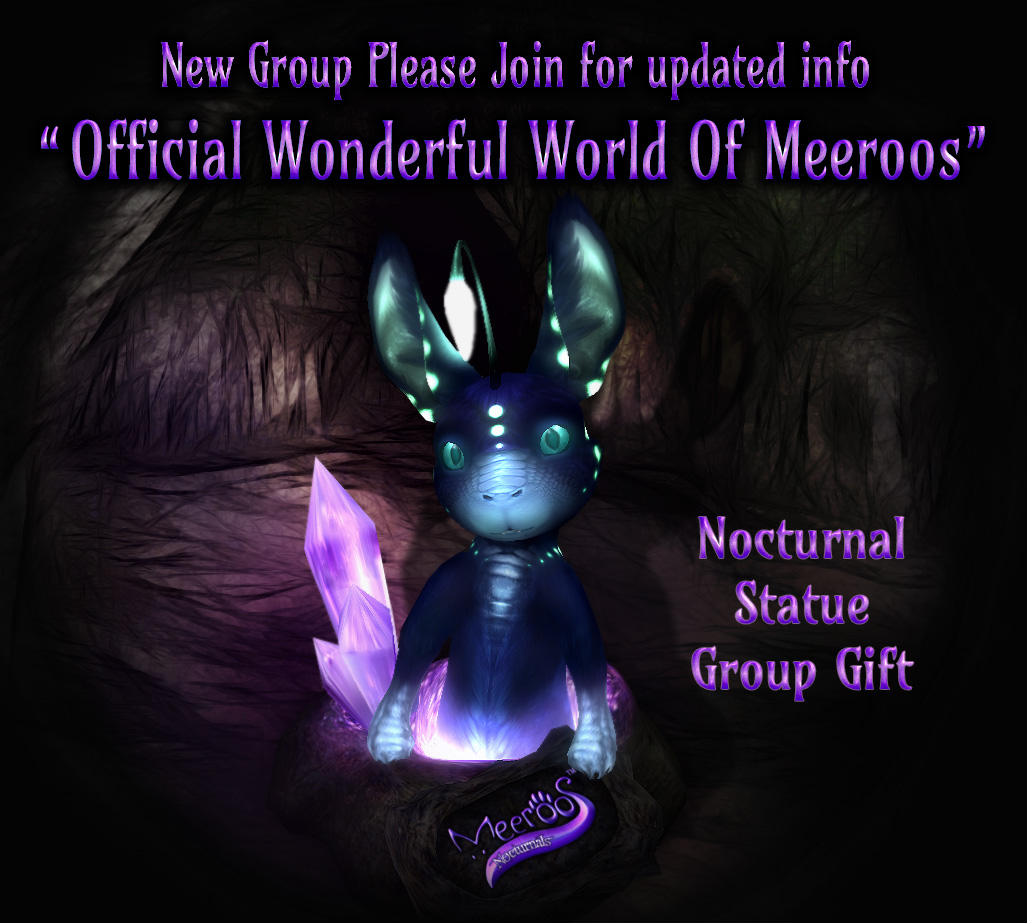 Due to changes in staff and the lack of permissions as they're set for our current groups, we've decided to make NEW GROUPS for our community so we have better control over their use and monitoring them as we grow as a community with the release of the Nocturnals!
We're asking everyone in the community to please JOIN the new groups and then LEAVE the old ones. You will have until Friday, September 14th to do so. At that time we'll be closing down and manually removing any remaining members from the old groups so they can be deleted.
So again – We ask that you take a moment and LEAVE the following groups:
 The Wonderful World of Meeroos
 Meeroos Official Support Group
 Wonderful World of Meeroos – Silent
And then, once done, Please take a moment to JOIN us in the new groups:
 Official Wonderful World of Meeroos
( secondlife:///app/group/ff9f9193-80ae-ee5e-6eab-1feb689a42c0/about )
 Official Meeroos Support Group
( secondlife:///app/group/201ed081-2838-efc6-0e2d-1cfc790b6f1f/about )
You can either cut and paste the secondlife:// group into into your viewer's local window and then follow the link to join, OR you can teleport to the group joiners on both Roo and Noc Sim.
http://slurl.com/secondlife/Meeroos%20Nocturnals/125/98/22/
http://slurl.com/secondlife/Roo/85/31/23/
You may have noticed that we don't have a silent group any longer. Instead we have an Official Subscribe O Matic on the Roo and Noc Sim for the "Official Meeroos Update Group". Through the Subscribe O Matic board you'll receive all the usual Notices, Gifts, Updates, etc .. without having to take on another group or worry about group chatter.
The founder of the NEW OFFICIAL groups will be Nocturnals Resident, and for everyone switching over, there is going to be a Free Gift! No spoilers here, you'll have to switch over and see what it is! It will be auto-delivered to everyone joining the new Official Wonderful World of Meeroos group and come in a folder called "Meeroos Nocturnal Group Statue" .. well ok, a little spoiler there. In order to receive the gift, you must click on the joiner in person and wear the group tag.
Thank you for your cooperation as we make the change over, and as always, for being the BEST breedables community in Second Life!
~The Meeroos Team